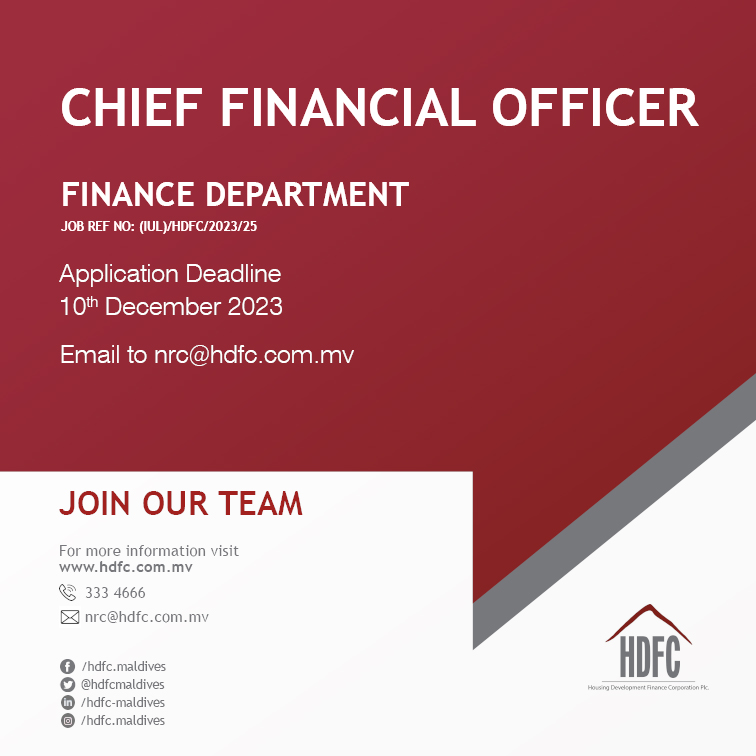 Job Title: 
CHIEF FINANCIAL OFFICER
(For Maldivians only)*
Due Date: 10 December 2023
Housing Development Finance Corporation (HDFC) PLC, established in January 2004, is the only specialized housing finance institution in the Maldives. HDFC is a privatized company with International Shareholders represented by International Finance Corporation (IFC of World Bank Group), Asian Development Bank and HDFC Investments Ltd. of India, jointly holding 51% of shares.
HDFC has a vacancy for the right candidate who can fulfill the role of Chief Financial Officer (CFO).
REPORTING RELATIONSHIPS
The Chief Financial Officer (CFO) shall report to the Managing Director (MD) on a daily basis, and to the Board and Board Committees as and when required.
OVERALL RESPONSIBILITIES
Responsible for financial planning and control, analyzing the financial strengths and weaknesses and proposing strategic solutions, ensuring legal and regulatory compliance, robustness of accounting information systems, and preparation of budgets, forecasts, financial reports and statements.
Developing and implementing the financial business strategy, business plan and budget for HDFC.
As a member of the Executive Management team, CFO will be an advisor to the Managing Director and other Functional Heads, evaluating and assisting them with their financial plans
Overseeing all fiscal and fiduciary responsibilities for the organization, in consultation with the Managing Director.
REFER TO THE TOR ATTACHED FOR DETAILED DUTIES AND RESPONSIBILITIES OF THE CFO
EDUCATION/QUALIFICATION AND EXPERIENCE
The candidate should have a professional qualification (CA/ACCA/CPA/CIMA) with minimum 5 years of professional work experience at senior management level in the field of accounting and finance
CORE COMPETENCIES
Strong knowledge of accounting principles and financial reporting standards, including International Financial Reporting Standards (IFRS)
Strong analytical skills and rich experience conceptualizing financial strategy and execution of plans in a lending Company.
Strong leadership, mentor and develop a direct team by managing work allocation, training, problem resolution, performance evaluation, and building of an effective team dynamic.
Strategic thinking, planning and execution skills and technical and functional expertise.
Strong team player, who has an eye on compliances and standard operating processes.
A collective and flexible style, with a strong customer service outlook. Someone who can envisage game changing strategies and tactics for long, medium- and short-term tenures.
Fluency in business communication in both Dhivehi and English.
Interested candidates are requested to submit application (downloadable: www.hdfc.com.mv) with CV, copy of ID card, copies of attested educational certificates and other supporting documents on or before 10th December 2023 to the email address below.
The Chairman
Housing Development Finance Corporation PLC.,
H. Mialani, Sosun Magu, Male' Rep. of Maldives.
Email: nrc@hdfc.com.mv