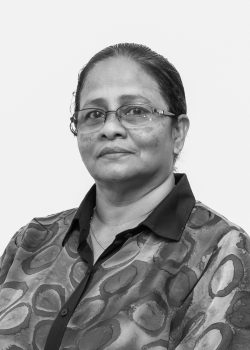 Qualification & Experience
Ms. Raheema holds Master's Degree in management and also a Master's Degree in Tourism, both from Monash University Melbourne, Australia. In addition, she obtained her Bachelor of Commerce, in Accounting and Marketing (Double Major) from Curtin University of Technology, Perth, Australia.
She was the founding Managing Director from 2004 until the Company was privatised in 2008, where she was appointed as the advisor to the Managing Director until 2010 when she left for her sabbatical and returned in 2014 and was appointed as the Operations Director and Company Secretary till 2017. In February 2017 she was appointed as the Managing Director of the Company. She was also on the Board of Directors of HDFC from 2004 till 2010. Prior to joining HDFC, she served in the Ministry of Finance and Treasury for more than 16 years in various senior positions. In addition, she also served as a Board Director of State Trading Organisation and during those 3 years, she was also the Chairman of the Maldives National Oil Company in Singapore. Further, she was also the Chairman of the Audit Committee of the STO Board.
Other Appointments
None
Board Committees
None
She does not hold any shares in any company in the Maldives that has or will be perceived as a conflict of interest with HDFC Plc.