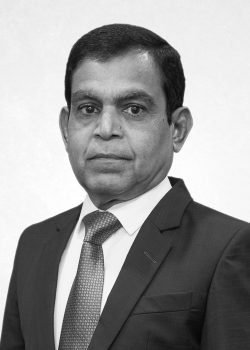 Mr. Mohamed was appointed as an Independent director on 18th July 2021.
Qualification & Experience
Mr. Ahmed has a Master's Degree in Business Administration from Durham University Business School, UK, and a Bachelor of Business Administration degree from American University of Beirut. He has served on Boards of banks, public limited companies, finance leasing, insurance, and various other private sector and public sector companies. He also has as experience in serving in multilateral and regional financial institutions as Alternate Governor and as Board Director.
He has more than thirty years of managerial experience. Financial and managerial experience of Mr. Ahmed include nearly a decade of service at top management in the banking sector and another decade of service at similar ranking positions in Ministry of Finance and Treasury. His last post in the Government was the Financial Controller of the state.
Board Committees
- Audit Committee (Chairperson)
- IPO Committee (Chairperson)
- Credit & Risk Management Committee (member)
He does not hold any shares in any company in the Maldives that has or will be perceived as a conflict of interest with HDFC Plc.